Learning Hessian - Part 2
Carpentry and design agency for real and virtual spaces
the current situation can be understood as a catalyst that connects the digital and real worlds. More and more digital technologies have entered our everyday lives and are available and affordable for almost everyone. In times of travel and contact restrictions, self-produced videos, on platforms such as YouTube, Vimeo, etc., are suitable channels for customer care and establishing contact. Live streams, e.g. of press conferences or product presentations are also becoming increasingly popular.
In response, we have set up a powerful film studio in our Spacelab. The centrepiece of it is the large LED video wall. With 3.20m by 1.80m and a pixel pitch of 2.0, the LED video wall makes high-resolution, large-format live feeds and dynamic backgrounds possible. Both, the LED video wall and the Spacelab, can be rented for your own film production.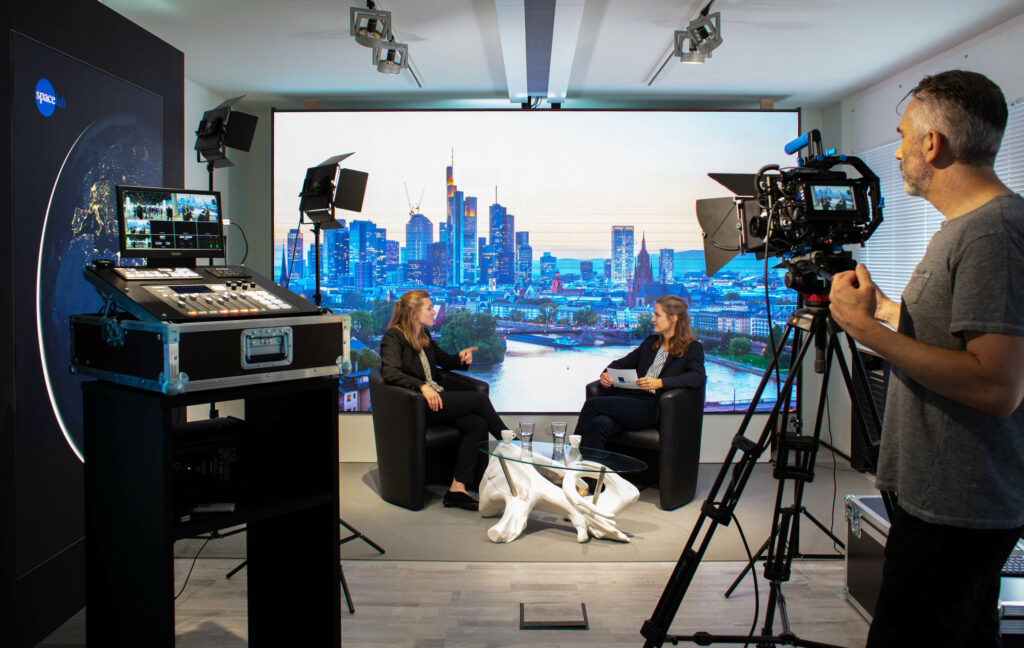 We are also happy to provide you with the appropriate equipment. Up to four cameras enable video production in 4K with up to 60 FPS (frames per second) for razor-sharp, smooth videos. Live streams can be produced in FullHD (1080p) with up to 50FPS. Multiple streams are also possible. In RAW Format saved videos allow an easy post-processing, e.g. for slow-motion effects. 3D-capable PCs with powerful CPUs and GPUs serve as live direction and editing workstations.
Various wireless and podcast microphones are providing the freedom of movement and high-quality sound recordings. A teleprompter guarantees a smooth text flow and allows you to focus on the right spot.
From our pool of design classics and high-quality furniture, we set up the studio according to your wishes and can provide you with experienced staff for camera and sound if required.
We welcome enquiries and will be happy to advise you on the possibilities offered by our recording studio.
"Äppler-Block" - Apple Wine Cabin
Where to put the Schoppen (bottle) when you want to make yourself comfortable in the garden or on the Main river? We offer the right accessory.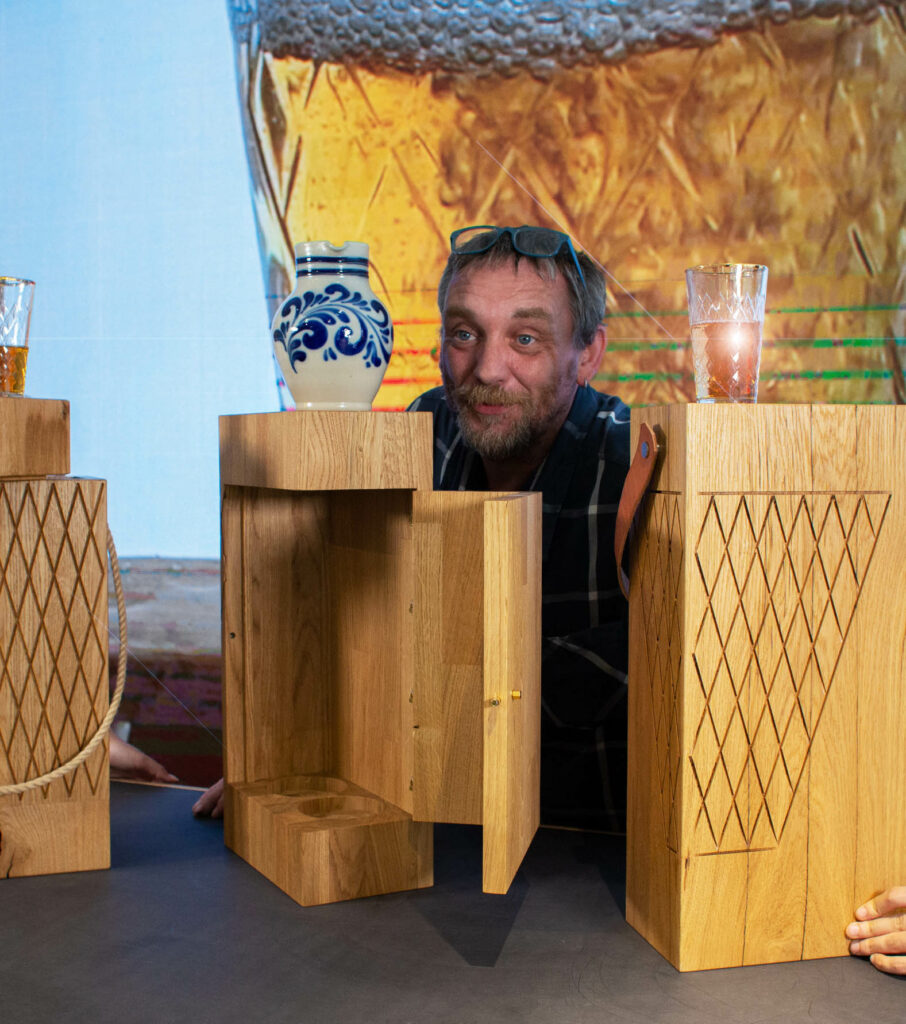 Our Äppelwoi (apple wine in Hessian) cabin is a mini counter for connoisseurs, made of oak and inspired by the pattern of the apple wine glass. Equipped with a handle out of leather and space for two bottles. It is a reminiscence of our beloved Hessian homeland.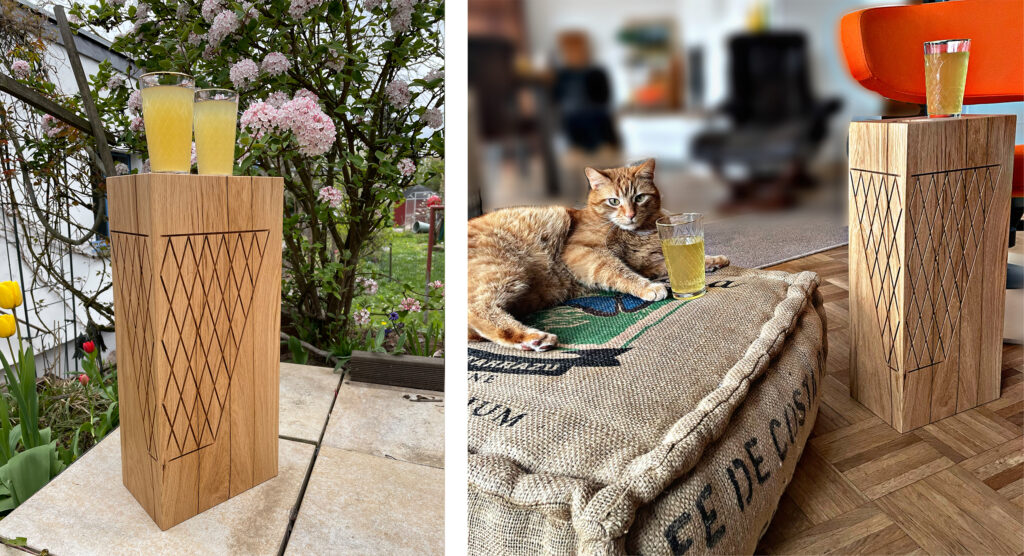 We look forward to inquiries and orders.
For the Hessian Central Office for Data Processing, we designed and built a presentation island with a big LED screen sitting inside a curved wall. The LED screen is operated via a desk with a built-in tablet. The rotatability of the desk enables a flexible orientation towards the screen or the audience.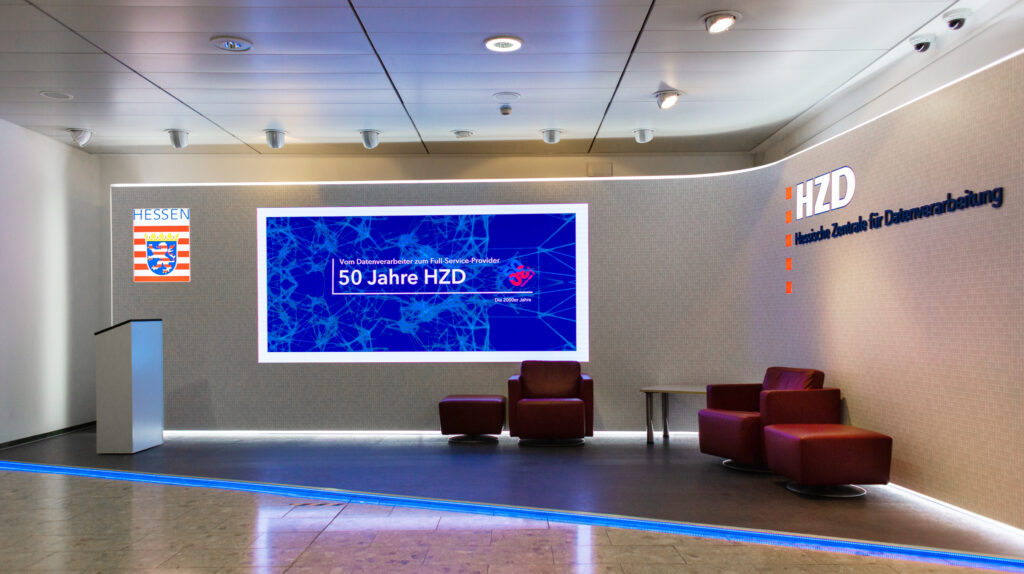 All structural elements, as well as the technology, software and content were produced in-house at Spacewood. This shows that we are able to deliver holistic solutions.

Take care of on another and yourself.
Warmest regards,
Sven Eismann
and the Spacewood Team